Hiring a virtual assistant is becoming increasingly popular as we move away from the pandemic into new ways of working remotely. But how do you know when you need to hire a virtual assistant in your business? So many business owners find themselves working night and day to keep up with their business and the growth that they're experiencing. Do you find yourself working too long and hard in your business? It's safe to assume every business owner knows (in theory at least) that at some point in their growing business, they will need to hire more help. It's fair to expect that one day you will have to face the fact that you need to delegate low level tasks that need to be done in your business, but not necessarily by you. It's a journey that every business owner needs to go from their startup journey, through to growth, then scaling. If you're going to grow your business past the point of your own personal capacity you will need to get some help to keep up with the exponential growth you create.
"If everyone is moving forward together, then success takes care of itself," Henry Ford
Lasting growth that snowballs should be the vision you should have for your business! A recent study found that 53% of business owners believe that they can grow their business by more than 20% if they delegate only 10% of their workload to someone else. Have you thought about the difference it would make if you were able to delegate just a small portion of the work that you get caught doing every single day? Studies show that 65% of business owners work 50 hours a week. Yet the average entrepreneur only wants to work about 41 ½ hours. Administrative tasks actually take up 24% of the average business owner's workday. Are you working 5, 10 or even 15 hours more than you'd like to each week on low-level admin tasks? The difference between working the hours you want to work, versus the hours you have to work, comes down to how effectively you manage your time. Specifically, making your business work for you is about developing your ability to delegate low-level tasks. If your ideal is to work a regular 40 hour workweek, or to work even less than that each week, you need to start delegating duties that fall below your pay grade. Have a look around and see what work is taking up most of your time and headspace. You will know it's time to get some help by hiring a virtual assistant if you can say yes to these indicators:
Content Marketing Is Taking Up Too Much Time
If you're ready for a virtual assistant you're probably spending more than 10 hours each week doing social media work and other content marketing. If working that much to feed the social media beast, then perhaps it's time for you to get a VA. You'll enjoy the relief of getting some help from an experienced professional. It will give you back all the time you've been sinking into that bottomless marketing pit. Plus, you're likely to see better results!
You Do All Your Business Admin Yourself
If you do all the general admin work in your business, chances are you actually need to hire a virtual assistant to help. You need to relieve yourself of all those administrative tasks so you can keep up with the high level work of serving your clients, developing new packages, collaborating with business partners, and making an impact in the marketplace. It's likely you will pay someone much less to help you with your business admin than you charge your clients. So the numbers really stack up in your favour to invest in some help!
You Are The IT Person In Your Business
Have you found yourself learning all the software and apps and new technology yourself to try to save money on hiring experts to help you with your business tech? Perhaps it's time to hire a virtual assistant who can jump in and do those things for you. A trained, experienced VA will be able to do this work in half the time, and likely give you better results. And you will have the time to generate more revenue while they're working for you.
You've Become The Resident Bookkeeper
If you've found that you're the one managing your business books yourself, it's time to delegate that work. You don't need to be the one doing all your invoicing, reconciliations, and bookkeeping. Bring in some trained, qualified help to clear your desk of this finance work. It will take them less time to do than you do, and you will be free to do the work you love … the work you are best at.
It Feels Like You Don't Have Time To Delegate
If you think you don't have time to set up for an assistant, that's a really clear sign that it's time for you to have an assistant! The time you need to start preparing to delegate to a virtual assistant is when you don't think you have the time. Spending just a few hours setting up will give you the ability to reclaim that time every single week thereafter. Prepare now to relieve yourself of the work that's taking up your time, choking up your headspace and diluting your ability to grow. Your business is meant to grow exponentially while it creates freedom for you. It's meant to keep growing so you can use it to make a real difference to your clients and their communities. Maybe it's time for a shift. Perhaps it's time for you to take a leap of faith. Get some help getting rid of those low level tasks. Jump in, hire an assistant! Enjoy the benefits that come from clear headspace and freedom in your business.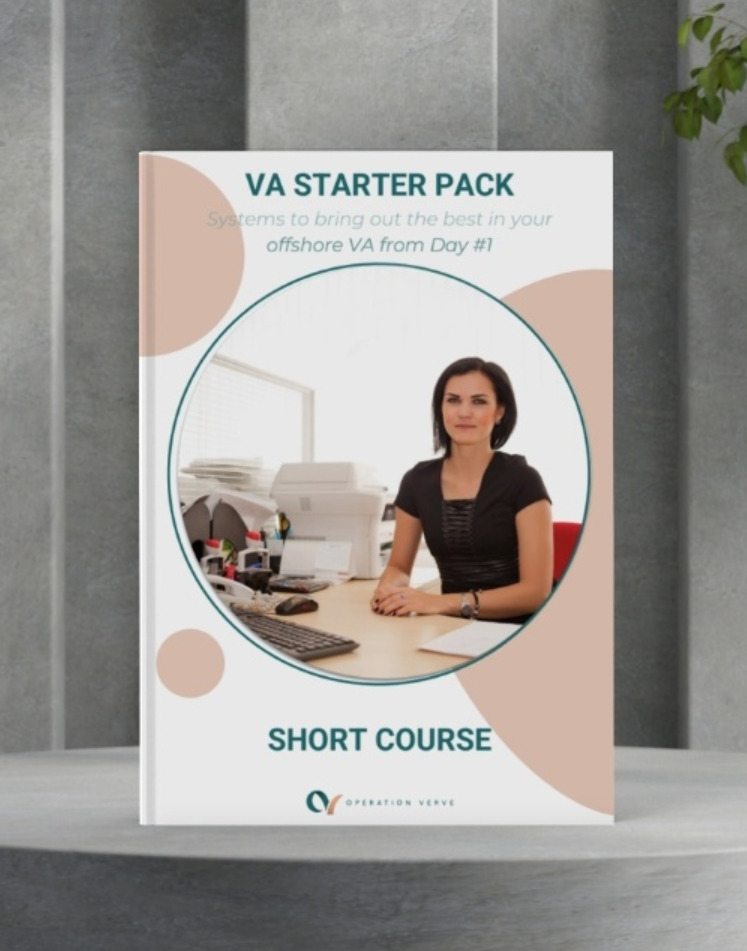 Ready to hire your first VA?
Avoid costly mistakes and frustration. Maximise your investment. Set them up for success.
How?
With the jam-packed, VA Starter Pack. This course delivers the processes, tips and tools you need to bring out the best in your VA from Day 1.
So, why did I create VA Starter Pack?
Hiring my first VA was definitely a challenge, so being able to share the experience and mistakes made along the way is why I created this course. I'll take you through everything you need to consider when hiring your first virtual assistant, so that you can cover the following four key areas that are absolutely critical to a smooth onboarding and a long-term relationship with you and your next (or first!) VA.
Prepare a warm, highly efficient welcome for your new Virtual Assistant
You will give your VA everything they need to thrive in their new role, and set yourself up for a smooth, seamless transition that saves you time, money, and energy.
Communicate your business culture and core values to foster unity and alignment
Communicating your business culture and core values to your team can be a really helpful process. Having all staff understand exactly where they fit into the family, and what they contribute to the success of the business can be priceless. In this section, you'll get clarity on your business values and culture so you can communicate them to your new team member. With VA Starter Pack, you will have your new Virtual Assistant up-and-running in no time, and contributing to the growth of your business.
Set up well-organised online workspaces for faster learning and increased productivity
One of the most important things you can do when you hire a new VA is to set them up with an online workspace that is well organised and easy to use. This will help them learn faster and be more productive from the start. There are many different ways to set up an online workspace, but I recommend using a tool like Google Drive or Dropbox so that you can easily share files and folders with your VA. Once you have decided on a tool, the next step is to create a folder structure that will help your VA find everything they need quickly and easily. I recommend setting up folders for each task or project, and then sub-folders for each client or customer My free online filing tour is a really great start to this process if this isn't something you have familiarised yourself with yet!
Create crystal clear work instructions for maximum accountability and output
Another important thing to do when you hire a new VA is to create clear and concise work instructions for them. This will help them understand exactly what you expect from them, and how you want tasks to be completed. Hiring a Virtual Assistant can be a great way to delegate tasks and free up your time to focus on more important things. However, it's important to take the time to prepare properly before you hire your VA in order to ensure a smooth onboarding process and long-term relationship. If you haven't downloaded it yet, don't forget to pick up my free VA Ready Checklist below! And, if you have any questions please don't hesitate to reach out!