As Robin Powered points out, rolling out new software can be a difficult undertaking for an organization. Whether you own (or work) for a company of five or 5,000, adopting new technology always comes with a few bumps. But, in many instances, implementing new software brings a myriad of benefits, including reduced timelines, quicker payments, and streamlined processes. Whether you're planning to upgrade, replace, or add software, the pros usually outweigh the cons.
About to purchase and move forward with implementing new software in your organization? Operation Verve shares some helpful tips for success.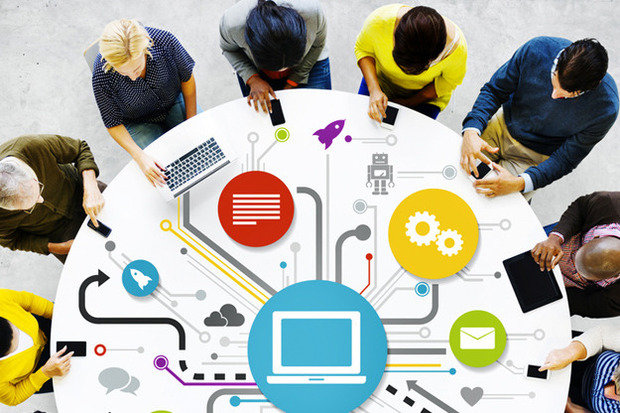 "Your success in life isn't based on your ability to simply change. It is based on your ability to change faster than your competition, customers and business." Mark Sanborn
What kinds of software are most worthwhile for your business?
Before ordering any new programs for your business, it is valuable to examine whether the change is worth it. Work with your team to decide which programs will help you meet your short and long-term goals, and which are simply a luxury.
What are some of the most beneficial types of software for the vast majority of businesses? Invest in programs that deliver the most value, including payment processing, customer relationship management, cybersecurity, and inventory management software.
Set realistic expectations
After you and your team have decided to begin using one (or more) new types of software, you may be excited to get started ASAP. However, getting everything up and running within a week or two isn't realistic. Your organization is composed of people with different tech skill levels, opinions, and levels of motivation. As such, it will take time to roll out any new software upgrades or changes. Setting realistic expectations for yourself from the beginning is critical. Doing this will prevent unnecessary frustration, and will help you take a more effective approach with your employees.
Business growth sometimes costs money. Paying for software and training that you didn't anticipate can add another complication, but there are loans and grants available to small businesses that ease the burden. Just bear in mind that lenders and sometimes grantors will examine not only your business finances but also your finances. Dig into your credit rating, find out critical information like your debt-to-income ratio – a benchmark that lenders use when deciding whether to issue loans – and take steps to present your situation as positively as possible.
Communication is key
There is no such thing as communicating too thoroughly when implementing new software. From day one, make sure your staff feels included and informed. Never spring anything on your team at the last minute. Send weekly or bi-weekly updates on the project so that everyone is on the same page. Also, communicating as early on as possible will give employees who are resistant to change some time to adjust. The more that your staff knows and understands, the better.
Conduct beta testing among your staff members
Even the most perfectly engineered software cannot prevent every hiccup. Before making the software update live, conduct beta testing with your staff members. After providing some training, have a select group test the software as part of a normal day's workflow. Doing this quickly identifies adjustments that still need to be made, as well as key learning opportunities.
Provide ongoing training and support
Among all recommendations you could utilize, TrainingFolks explains that providing proper training and support is easily the most important. As mentioned earlier, your staff has varying levels of tech-savviness and ability. Some people learn software programs within minutes, while others may need weeks or months to feel comfortable.
Rather than host a brief training session, make training an ongoing priority. Check-in with each individual on your team, and provide the encouragement and support needed to achieve success.
The right software can dramatically improve day-to-day operations for any business. When approached with thought and skill, implementing any kind of software can go smoothly.